Sunday, 9th September 2007: Locking-up with a Purple Fairy!
We lost our very close friend, Richard, in July and this has upset our lives so much that it has been difficult to keep properly up to date with this website as well as our usual work and social commitments. May we take this opportunity to thank everyone who helped us with Richard's funeral arrangements and ask you all to bear with us while we sort out the administration of his estate. Richard's obituary can be found here.
The above picture shows 'GC' (link to GC's web page) at Fotheringhay on the River Nene, where we stopped for a few days on the way back from St.Ives. As evidenced by his wet coat, 'GC' had been for another inadvertent 'swim' but, from the look on his face this did not particularly worry him - it always amazes us how, whenever he falls in the water, he always manages to keep his head quite dry! Unfortunately, he brought another mouse aboard which then disappeared through a small hole into the cabin bilges and it hasn't been seen or heard since! The mooring at Fotheringhay Bridge was extremely pleasant so we spent a few days there - 'GC' enjoyed chasing rabbits over the old castle mound while Graham did his best to catch up with some articles that he had been commissioned to write.
Although 'GC' remained aboard throughout the trip, he has long since assumed the habit of sleeping whenever the engine is running so he completely avoids such energetic tasks as helping with locks - and, because Jane could only take a short time off from work for the IWA Festival, Graham was left to manage most of the voyage to and from St. Ives single-handed. Each day, on finishing work, Jane would phone to find out where 'Alnwick' was expected to be tied-up and then drive over for the night returning to work the following day - this arrangement worked well but caused some amusement among Jane's work colleagues! The only inconvenience was when a section of exhaust pipe parted company with Jane's car so, after limping back to our house in Woodford, a temporary replacement vehicle had to be hired.
Once properly mastered, the locks on the Nene proved easy to manage (albeit terribly slow) and the narrow locks on the Northampton Arm of the Grand Union were also comfortably navigated. In contrast, the wide locks on the Grand Union main line can be awkward when cruising single handed - especially if there are no other craft about to share locks with.
On the morning of Friday, 7th September, after stopping overnight at Bugbrooke, there had been something of a panic when it was discovered that our main fuel tank was empty and we estimated that the 'day tank' had just enough left to get as far as Whilton. Then, on arrival at Whilton, it was not immediately possible to get fuel because an unfortunate boater coming down Buckby Locks had been attacked by a dog. A longish wait ensued while the victim was taken off by the chandlery proprietor for medical treatment and the local constabulary collected statements from witnesses. The outcome isn't known but we certainly hope that any injuries were minor and have now completely mended.
The unexpected delay proved fortunate for Graham because, after replenishing fuel, gas and general supplies at the excellent Whilton Chandlery and Canal Boat Shop, 'Alnwick' was joined by NB 'Augusta' which was also single manned - or to be more precise 'single womanned'! It was agreed that the two boats would be roped up abreast so that Graham could manouvre the boats using his engine and rudder - while the skipper of 'Augusta', in the form of Helen Dobbie (also known as 'The Purple Fairy'), ran forward to set the locks. Apart from a few bumps (caused by Graham's haphazard steering), the exercise worked extremely well and the Buckby flight of seven locks was cleared in excellent time!
Jane rejoined 'Alnwick' at Braunston top lock on Friday evening and we arrived back on our mooring at Cropredy on Sunday, 9th September 2007 - exactly four weeks after leaving for St. Ives! The statistics for the round trip from Cropredy to St. Ives and back are not bad - we covered a total of 352½ miles and 184 locks; this involved 165 engine hours (an overall average speed of 1.9 mph) and our maximum recorded speed was 7.4 mph on the unrestricted section of the River Nene.
The photographs below show , respectively, Fotheringhay Church as viewed from the river on the morning of 4th September, NB 'Alnwick' heading up-river from Cotterstock Lock, River Nene, later on the same day and two views of 'Alnwick' and 'Augusta' breasted-up whilst negotiating Buckby Locks on the Grand Union Canal during the afternoon of 7th September - the bottom three pictures were all provided by 'The Purple Fairy' . . .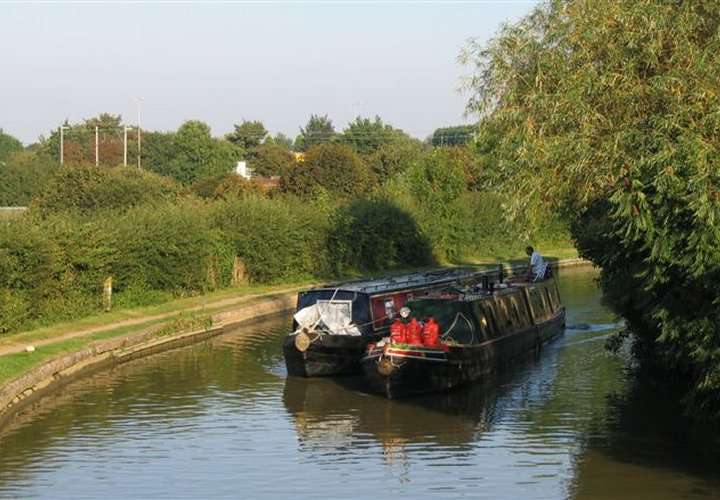 ---
© Graham & Jane Oliver 2007